The New Look of Prefabricated Restroom and Concession Buildings
Times have changed and so have modern prefabricated facilities. In the past, the typical prefabricated restroom or concession building would have had an institutional look and feel. With new processes and higher-grade materials on the market, the modern prefab building is much more aesthetically pleasing and can be built to truly fit into its surrounding environment. That's great news for both the building's owners and it's future users as well.
Modern manufacturers of prefabricated buildings have the flexibility to design buildings that do not have to fit into specific molds. With buildings now being constructed using time-tested materials such as wood framing, steel framing, or CMU block, an in-house architect can custom design both the layout/floor plan of a building as well as the exterior look. The result is a building that fits the specific needs of their clients. From basic restroom layouts to buildings housing restrooms, concession rooms, offices, and storage space the opportunity is available to make changes or additions as needed. The option to add exterior features such as gables, arched roofs, natural or cultured stone, brick, natural wood and timbers and so much more lends itself to designing a building that "fits" into its new environment.
The advantage of custom designing a building along with the ease of the construction process has drawn more parks departments, landscape architects, and golf course owners to take a serious look at prefabricated buildings for their new projects.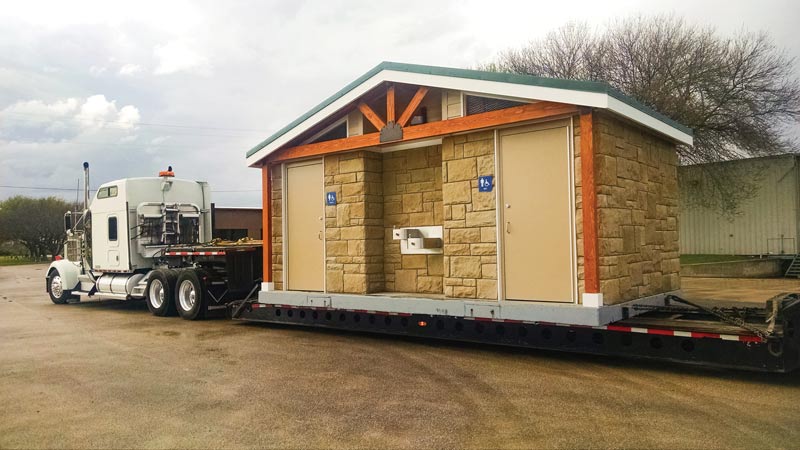 Tough buildings are the result of the nature of the manufacturing process. Prefab buildings are engineered to meet the demands of in-plant construction, lifting with heavy cranes, and delivery by heavy haul trucks. The end result for a new owner is a building that is built to a much higher standard with higher strength and shear values, stronger foundations, and more bracing than a typical on-site constructed building which in turn typically delivers a longer lasting facility.
As parks and recreation professionals research manufacturers of prefab buildings they will find that many modern fabricators are specialized in the types of buildings they produce. A manufacturer that solely builds restroom and concession buildings has an acute understanding of what the day to day use and abuse of such a facility endures. The builder, through years of research, will have found and will be using materials that are made to stand up to years of use and are easy to maintain.
In addition to ADA compliance, a prefab builder will also comply with building, energy, health, as well as regional codes. Keep in mind that a prefab builder will deliver buildings across the country. No matter where a building is delivered, it will be built to both federal and local building code. Transferring that burden over to the manufacturer saves not only hours or days of time researching code, but also the worry of impending inspections.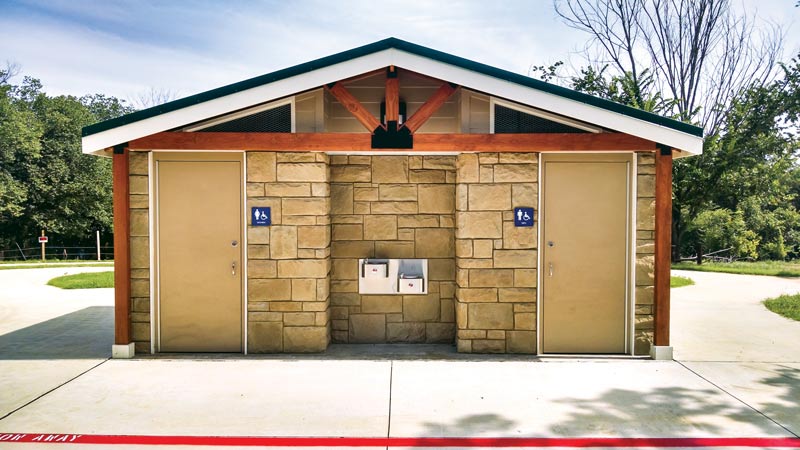 What can an owner expect when moving forward with a prefabricated building? Expect ease – ease of installation, and maintenance. During the construction process of a prefab building, its new owner has peace of mind knowing that they do not have to deal with a messy and dangerous construction site that will close down a part of their park or recreation area and increases their liability. They also know that their building is being built in an enclosed plant out of the damaging effects of mother nature, vandals, and thieves. Typical on-site construction lends itself to many pitfalls that can lead to construction delays and budget overruns which can be mitigated by off-site construction.
Preparing for delivery is easy. As delivery of a new building draws near, a new owner will be required to prepare a pad site for their new facility. The typical pad preparation will consist of grading down a few inches and compacting the soil, and in some cases, dependent on the condition of the soil, footers or imported fill may be required. Next, a team from the prefab company will arrive on site and, with the help of the owner digging trenches, will install a prefabricated plumbing kit that has been specifically designed and built for their new building. After the trenches have been backfilled with the plumbing kit installed, sand will be spread creating a 2″ layer which allows the building to settle into place. The company installers will ensure the pad is level, flat, and ready for the building's placement.
Delivery and set day is an exciting time for everyone involved. A large crane shows up on site and sets up, and shortly after, the building arrives on a semi-truck ready for its new home. The professional installers will direct the building as it is off-loaded and set up on the prepared pad. Care is taken to ensure the plumbing kit's lines enter the building through knockouts in the 8″ thick concrete slab foundation. Once in place and free from the crane, the building is almost ready for service. The interior building plumbing is connected to the underground plumbing kit, and the new owners connect utility service via the stub outs set 6′ from the building. After the installers complete their finish work the building is tested, and a final walk through with its new owner is conducted the beautiful new building is ready for use.
Imagine the families showing up to a park or recreation area a week after their previous visit to find a fully functional, beautiful new building! A building that not only looks great but is easy to maintain.
Prefabricated buildings are not what they used to be, and that is a great thing.
Orginal Article: https://playgroundprofessionals.com/parks-and-recreation/restrooms/new-look-prefabricated-restroom-and-concession-buildings